Big Game Food Fun
Big Game Food Fun  
By Jacqueline Gomes, MBA, RDN 
Hosting a party for the Big Game? It's not just about the game – it's also about the friends, fun, and food! My favorite Big Game snacks are easy to make, delicious, and nutritious of course. Follow these helpful hints to satisfy the football fans at your game day gathering.  
Keep your "team" satisfied with hearty and nutritious snacks such as nuts (almonds, peanuts, pistachios & walnuts), cheese, dried fruits (apricots, cranberries, raisins), raw veggies with light ranch dressing and popcorn!
Dips don't have to be loaded with unhealthy fats, choose hummus, guacamole, salsa and bean dip – pair with raw veggies, whole grain crackers and baked corn chips.
Heat it up at half time! Before half time starts, preheat your oven to make warm and hearty snacks. Melt cheese over crackers, veggies, or hot sandwiches. Reduced fat cheeses can have as much as 33 percent less fat than regular cheese!
Ditch the boring hamburgers and hotdogs – prepare lean steak, turkey burgers, chicken or tofu kabobs and black bean burgers – easy to prepare, delicious options that are high in protein.
Chili is a staple on game day – Prepare chili using the leanest beef or turkey possible. Consider using less meat by adding in more beans to create a higher fiber and lower fat meal.
Have a small snack before the party starts such as yogurt, a few nuts or fruit. This will ensure you don't start the Big Game festivities with a ravenous appetite and end up overeating.
Ready to take classic fajitas to the next level? Enter Steak Fajita Stuffed Avocados, these Mexican inspired avocados will wow your guests! We have the fresh flavors of Pico de Gallo, sweet bell peppers and zesty fajita seasoned Ranchers' Legend steak.
So let's get cooking.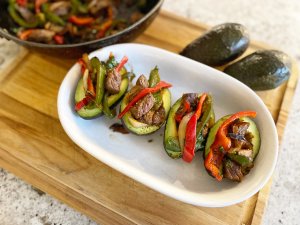 Steak Fajita Stuffed Avocados
Prep: 15 minutes
Cook: 10 minutes
Makes: 16 fajita stuffed halves
Ingredients
1 pound Rancher's Legend T-bone or porterhouse Steak
1 small sweet onion
2 Bell peppers, seeded and sliced
1 jalapeno pepper, seeded and minced
1 envelope Fajita seasoning
2 tablespoon olive oil
8 ripe Hass avocados
1 lime, juiced
½ cup cilantro leaves, chopped
¼ cup Mexican shredded cheese
Directions:
Trim any fat around the steak. Slice steak against the grain into strips, then cut strips into 2 inch pieces. Sprinkle ½ Fajita seasoning over steak and 1 tablespoon olive oil. Toss to coat and set aside.
Meanwhile, slice up onion and bell peppers.
Heat 1 tablespoon of olive oil in a large skillet over medium heat, add in onions, bell peppers and jalapeno pepper, cook until starting to soften, about 3 to 4 minutes.
Turn heat to high, add in remaining fajita seasoning over vegetables and push vegetables to one side of pan. Now add in seasoned steak, cook for 4 to 5 minutes or until steak appears cooked to medium doneness. Toss all ingredients together.
Squeeze the juice of one lime over steak and vegetables, add in cilantro and stir to combine. Remove from heat.
Now, cut avocado's in half and remove pit. Scoop out some avocado to create a deep hole, repeat with remaining avocados. Fill each avocado half with steak & peppers. Top with a sprinkle of shredded cheese and serve immediately.
What to do with scooped out avocado?
1. Chop and top each filled stuffed avocado
Prepare a mini guacamole dip to accompany raw veggies
Freeze it. Yup! Mash the avocado with lime juice, place into a freeze bag and squeeze out all the air. Freeze for up to 1 month.
Recipe by: Jacqueline Gomes, MBA, RDN