February is American Heart Month
February is American Heart Month
By Jacqueline Gomes, RDN, MBA
February is American heart month! It's a great time to support strides to end heart disease and advocate for early prevention, detection and treatment.
Optimal hearth health starts with a healthy diet rich in fruits, vegetables, lean protein and whole grains.
Whole grains such as whole wheat, oats, quinoa, brown rice & corn provide B-vitamins and fiber.
The American Heart association reminds us to consume fish like Cod and Salmon at least twice a week.
For meats, choose lean and skinless cuts.
And don't forget about healthier cooking methods like baking, broiling, roasingt, grilling or sautéing.
Use heart-healthy olive oils such as olive or canola most often.
Fish is one of the easiest proteins to prepare! Cod is a stellar source of protein and has a very mild flavor, for that reason it's usually a fish most people can enjoy. Let's kick up the flavor with olives, tomatoes and garlic in this easy Baked Tomato-Olive Cod.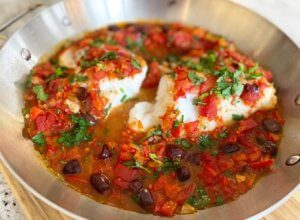 Easy Baked Tomato-Olive Cod
Prep: 10 minutes
Bake: 20 minutes
Makes: 4 Servings
Ingredients:
For the sauce:
1 (28 ounce) Tuttorosso® Peeled Plum Tomatoes
½ medium onion, finely chopped
2 teaspoons olive oil
1 Red bell pepper, finely chopped
3 garlic cloves, mined
Zest of 1 lemon
½ teaspoon Crushed red pepper flakes
½ teaspoon Salt
½ teaspoon sugar
½ cup Fresh basil, finely chopped
For the Cod:
5 pounds Cod filets
Salt & Pepper
½ cup olives, sliced
1 handful parsley, finely chopped
Directions:
Preheat oven to 425 degree.
For the sauce: Drain liquid from canned tomatoes, reserve and set aside. Using your hands, crush plum tomatoes into a separate bowl, leave some chunks.
Heat olive oil in a large sauté pan, add in onion and bell peppers, cook until soft, about 3 to 4 minutes. Add in garlic and continue to cook for another 2 minutes.
Add in tomatoes cook for 5 minutes, stirring frequently. If you prefer a looser sauce, add in reserved liquid if desired.
Add in olives, lemon zest and seasoning – crushed red pepper, salt, sugar. Taste and adjust seasoning as needed. Let sauce simmer for about 5 minutes more.
Meanwhile, prepare the cod. Place cod in a baking dish coated with olive oil or cooking spray. Season fish with salt and pepper.
Ladle tomato sauce over fish, bake for 20 minutes or until fish reaches internal temperature of 145 degrees F. Remove from oven and sprinkle with parsley.
Serve over rice, pasta or mashed potato.
Note: To reduce sodium in this recipe, omit the salt and olives which will reduce the total to 274mg sodium per serving.
Nutrition Information:
366 Calories; 18g Carbohydrate; 19g Fat; 33g Protein; 1,220mg Sodium; 2g Fiber
 Recipe: Jacqueline Gomes, RDN, MBA