Healthy & Budget Friendly
Healthy & Budget Friendly
By: Jacqueline Gomes, MBA, RDN
Budget conscious meals are a top priority for shoppers right now. As we enter 2023, we're seeing many shoppers embrace produce and reduce the amount of animal proteins they're consuming as a way to stick to their food budget.
When it comes to animal proteins like chicken, purchasing a whole roaster is an excellent way to save! Add in plenty of root vegetables like carrots and potatoes and you'll have a budget conscious meal the whole family will enjoy – and maybe some left overs too!
Here are a few tips to stretch your food dollar:
Make a food budget and review the weekly circular to find the best deals.
Plan meals in advance and utilize ingredients in a variety of recipes.
Buy non-perishable foods in bulk. Take advantage of sales for staple items and canned goods.
Shop the outer perimeter of the store and fill your cart wholesome nutritious foods first.
Eat Seasonally. Buy fresh fruits and vegetables in season. When not in season, go for canned or frozen options without added sugar or sauces.
Embrace store brands. Great quality for less.
Buy large packages of lean meats, divide into individual serving sizes, and freeze to use as needed.
Eat Well Tip: How to determine the best buy using the unit pricing guide:
Your goal is to pay the lowest price per unit.
For example, a 12 ¼ ounce can of chunk light tuna in water sells for $1.55 ($2.02 per pound)
A 6 ounce can of chunk light tuna in water sells for $0.79 ($2.07 per pound).
The 6 ounce can costs less to purchase, but per unit (per pound) the 12 ¼ ounce is the better buy. In this case, you would save $.05 per pound of product.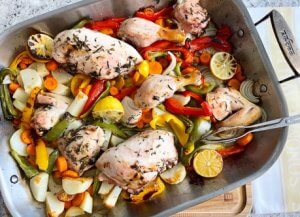 Lemon-Herb Chicken & Root Vegetables
Prep: 20 minutes
Cook: 40 minutes
Makes: 6 Servings
Ingredients:
1 (5.5 to 6-pound) Perdue Oven Stuffer Roaster, cut into parts
Salt & pepper
Olive oil or cooking spray
2 pounds russet potatoes, peeled and cut into half moons
1-pound carrots, peeled and sliced into circles
3 Bell peppers (red, green, yellow), cut into strips
1 onion, sliced
2 lemons, sliced in half
Lemon herb Sauce:
3 Tbsp Olive oil
Juice from 1 lemon
Fresh rosemary
Fresh thyme
3 garlic cloves, minced
½ tsp Salt
Directions:
Preheat oven to 450 degrees.
Place chicken parts on a large baking sheet or roasting pan. Season both sides with salt and pepper. Add potatoes, carrots and bell peppers, drizzle with olive oil (or cooking spray) and season with salt & pepper. Place chicken over vegetables. Cut lemons in half, place facing upward in pan.
Prepare sauce: Add all ingredients into a bowl or glass jar. Mix or shake jar until well combined. Using a pastry brush, brush both sides of chicken with sauce.
Place roasting pan in oven uncovered for 20 minutes, turn chicken over, toss vegetables. Continue to cook for 15-20 minutes. Turn chicken over, place under broiler for 2-3 minutes until crisp. Serve immediately.
*NOTE. Internal temperature of chicken should reach 165 F before removing from oven.