Winter Comfort Foods
Winter Comfort foods
Jacqueline Gomes, MBA, RDN
 Comforts foods – for each one us they may be different. Comfort foods come in all shapes, sizes and flavors, for instance; some may find sweets like chocolate chip cookies to be comforting while someone else might prefer the heartiness and savoriness of beef stew.
Is there a way to turn your comfort food into a deliciously healthy meal? With just a few modifications like adding more veggies or swapping out a higher fat ingredient for a lower fat ingredient can help you indulge without extra fat and calories.
Here are a few of my favorite recipe swaps:
| | |
| --- | --- |
| Instead of…. | Choose… |
| Sour cream | Low fat Greek Yogurt or low fat sour cream |
| Butter | Olive oil for savory dishes, applesauce in baked dishes |
| Refined grains such as white flour or white rice | Whole grains like whole wheat, brown rice, quinoa, barley |
| High fat meats | Skinless poultry, lean beef, 93% lean ground turkey, tofu |
| Mashed potatoes | Prepare using half mashed cauliflower with half potatoes |
| Spaghetti | Spaghetti Squash |
 Did you know? According to a recent study by Cornell University researchers, women and men seek out different comfort foods. Men crave mixtures of salt, protein, & fat like pizza and steak. Women seek out high fat & sugar foods like chocolate, ice cream, and cookies. What are you favorites?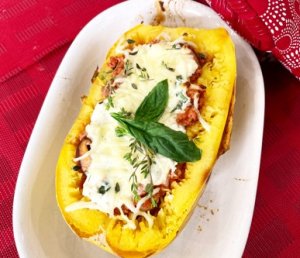 Spaghetti Squash Lasagna Boats
Prep: 1 hour
Bake: 15 minutes
Makes: 4 Servings*
Ingredients:
Turkey Sauce:
1 Tablespoon olive oil
3⁄4 pound 93% lean ground turkey
1⁄2 cup finely chopped onion
3 garlic cloves, finely minced
5 ounces shitake mushrooms, sliced
2 cups crushed tomatoes
Kosher Salt & pepper
1 teaspoon Italian seasoning
1 bay leaf
Ricotta Filling;
1 cup part-skim Ricotta Cheese
1⁄2 cup fresh basil, chopped
1/8 teaspoon fresh nutmeg
1 1⁄2 cups part-skim mozzarella cheese
Kosher salt & pepper
Fresh thyme for serving
Directions:
Bake Squash: Preheat oven to 425 degrees. Pierce squash all over with a knife and place on a baking sheet lined with aluminum foil. Bake for approximately 30-40 minutes, turning over half way through. You'll know it's done when the skin is soft. Careful not to overcook or squash will become watery. When done set aside, allow to cool for at least 10 minutes before cutting and filling with remaining ingredients (STEP 5)
For the Turkey sauce: Heat a Dutch oven over medium-high heat. Add 1 tablespoon olive oil, add onion, garlic and mushrooms, add a pinch of salt. Cook until soft, about 3 to 4 minutes.
Add in turkey, using the back of a spoon break up turkey, tossing frequently. Continue to cook for about 10 minutes. Season with 1 teaspoon salt and 1⁄2 teaspoon pepper. Stir in Italian seasoning, crushed tomatoes and bay leaf. Cover and simmer for 10 minutes, stirring halfway through.
Ricotta Filling: In a medium bowl, mix together the ricotta cheese, nutmeg, basil and sprinkle of salt & pepper.
Filling the squash: Cut the squash in half lengthwise, remove seeds with a spoon. Loosen strands with a fork, season with a sprinkle of salt & pepper. Evenly divide meat sauce among the squash. Spoon ricotta filling over the meat sauce. Top with mozzarella cheese, cover the squash loosely with aluminum foil.
Place squash on a baking sheet and bake for about 15 minutes or until cheese is golden brown and bubbly. Let squash rest for 5 minutes before serving.
Sprinkle with thyme and more fresh basil if desired.
*Notes:
Servings will depend on size of squash used.
To lower sodium in recipe, omit added salt.
Nutrition information for 1⁄2 squash:
451 Calories; 37g Carbohydrate; 17g Fat; 43g Protein; 1,001mg Sodium; 7g Fiber
Recipe by: Jacqueline Gomes, RDN, MBA